Our Clients says

The close location to the airport and the free shuttle was excellent I also thought the bathroom facilities were excellent and bed was first class, very comfortable and most welcome after a memorable 1609km ride in 10.5 days. I will not hesitate to return and use this facility again.
Keith

Good, clean, comfortable room and bathroom, nice and helpful staff. Good breakfast, with tasty sweets.
James

The staff are incredibly helpful, we had some problems contacting family in abruzzo as well as no idea of transportation, we could have been lost, but the staff went far out of their way to help us. A special thanks to Fulvia at reception, very nice and beyond helpful. Also peaceful and quiet place very spacious with lovely restraunts less than 100m from the hotel
Lewis

I loved the style, design, and architecture. Breakfast was tasty, and included in our booking fee. It's about 7 minutes away from Rome Airport by shuttle bus which is available every 45 minutes.
Alma
La Maison
Informations about us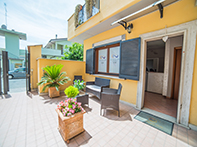 La Maison Jolie is located in a quiet and residential are in the so called district of "Isola Sacra", far 3 km from the international Leonardo Da Vinci's Airport.It's a perfect place for those who have spent a day travelling and want to have a rest and explore Fiumicino and its close important sites.
Within few kilometers you'll have most of the services you need of: supermarkets,bar, shops,commercial centres and the bests restaurants!
Our staff will always be glad of helping you anytime you'll need!.
Check-in after 13:00.
Check-out till 12:00.
For any particular needs about Early and Late Checks get in touch with our staff!.
Kitchen upon request, price is €10 per day.
Cot upon request, price is €10 per day.
Gay Friendly.
Pets are welcome! We accept domestic animals (small/medium sizes ).Contact us to know further details.
Whithin ten minutes walking you can visit our hystorical park "Villa Guglielmi",recentely it's been newly equipped for sports activities if you want to have some fun,otherwise it would perfect even for a relaxing walk.
Using your car,public transport,our shuttle service you can reach:
Commercial centres Parco Leonardo and Parco Da Vinci (about 5 km.).
Archelogical site Ostia Antica (about 5 km)
Our Harbour next to "Darsena" and it's river "Tevere" (about 3 km).
Nuova Fiera di Roma (about 5,5 km).
Rome (about 25 km.).
Cerveteri's Etruscans necropolis (about 40 km.) elected World Heritage Site in 2004.
We offer support on renting car or scooter from the best companies around,moreover we have got contacts with some of the best Touristic Guides in case you're looking for private or group Rome tours!
Request Availability, or contact us for any informations. Our staff will be glad of helping you!